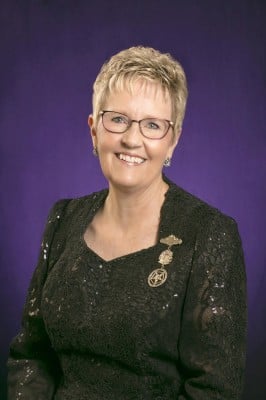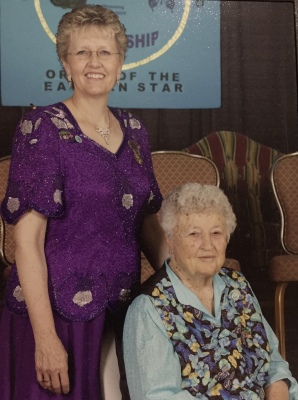 Marianne Shenefelt was born in Denver, Colorado, and grew up on a ranch northeast of Cheyenne, Wyoming.  She married Francis (Frank) T. Shenefelt at Cheyenne in 1968, and they have lived in Cheyenne since that time. 

     Frank is retired from the State of Wyoming and the Wyoming Air National Guard. He is an avid pickleball player. 

     They are the parents of one daughter, Holly.  Holly is a Lieutenant Colonel in the United States Air Force and is the Commander of the 84th Civil Support Team, which is first responder unit in the Wyoming Military Department that consists of Army and Air Force personnel located in Cheyenne.

     Marianne is retired from the State of Wyoming. Marianne was initiated into Burns Chapter No. 47, Burns, Wyoming, in 1979, with her sister, Louise. She has served as Worthy Matron three times. 

Marianne and her mother, Doris Anderson

     Holly is a member of Burns Chapter, making the fifth generation of Eastern Star in Marianne's family.  Marianne is a dual member with Harmony Chapter No. 53, Cheyenne, Wyoming.  

   In 1998, Marianne was appointed by Worthy Grand Matron, Sister Rebecca
Dolling to serve as Grand Representative of Manitoba in Wyoming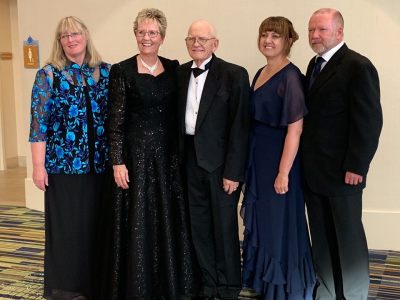 In 2000, she was appointed to serve as Grand Esther by Worthy Grand Matron, Patricia Harwood  and Worthy Grand Patron, Chuck Gragg. 

   Marianne was elected Associate Grand Conductress in 2001 and installed as Worthy Grand Matron, of the Grand Chapter of Wyoming in 2004.  In 2005, she and Worthy Grand Patron, Larry Farnham presided at the 108th Grand Chapter of Wyoming's ""Circle of Friendship" Session.

   Sister Marianne was appointed to serve on the  2006-2009 Heart Committee of the General Grand Chapter by Most Worthy Grand Matron, Sister Barbara Benton and Most Worthy Grand Patron, Brother William Owen.

    In November of 2009, at the GGC 46th Triennial Assembly in Tulsa, Oklahoma, Sister Marianne was elected Right Worthy Associate Grand Conductress of the General Grand Chapter.

Marianne's family: sister Louise, Marianne,
husband Frank, daughter Holly, son-in-law Shan.



2009-2012

The Nature of God's Love Around the World

General Grand Family

2012-2015

Hope for Tomorrow
General Grand Family


2015-2018

Precious Memories on the Wings of Love
General Grand Family